If you need help with the K-1 fiancé visa, you will find this article useful. It covers the entire process from filing with the United States Citizenship and Immigration Services to your fiancé receiving the K-1 fiancé visa. Are you in Montana, North Dakota or Wyoming? If so, we can help you with the K-1 fiancé visa process. Keep reading if you want more information. If you know you need help now, contact us.
K-1 Fiancé Visa Introduction
K-1 fiancé visas are little unusual from an immigration perspective in that they are nonimmigrant visas. But, they lead to your fiancé immigrating to the United States. So in some ways they act like immigrant visas and US consulates that process them treat them as such.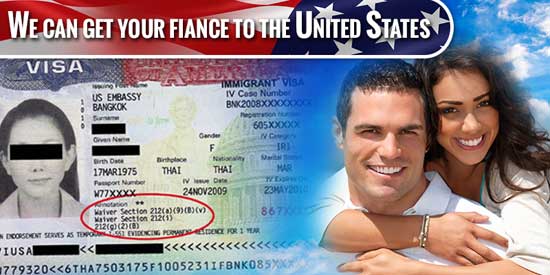 Why Do You Need a K-1 Fiancé Visa?
Many US citizens that have formed romantic relationships with people outside the United States try to avoid the fiancé visa process. They hope that the fiancé can come to the United States as tourist or on a work visa. Applying for a tourist visas is a simpler process than the fiancé visa. Unfortunately, it is very difficult to for a single person to get a tourist visa from a lot of countries. If the economy of the country is not as developed as the United States, consular officers suspect that single people without attachments either already have a romantic interest in the United States or they are coming to the United States to try to work without authorization.
Tourist or Work Visa Application Denied
If the consular officer believes the person has a romantic interest in the United States they will deny a tourist visa and direct that the fiancé get the appropriate fiancé visa. If alternatively, the consular officer believes the person will work in the US, they treat the fiancé as an intending immigrant and deny the tourist visa. Many clients have come to us after failing at this stage. We help clients get on the right track by filing for the fiancé visa as the tourist visa route is unlikely to ever be successful.
K-1 Fiancé Visa Requirements
USCIS principal requirement for the fiancé visa is that you have met your fiancé in the two years before filing the application. In theory, the USCIS provides a waiver to this requirement in practice, the waiver is nearly impossible to receive. If you have met your fiancé in the last two years and you have evidence of that, pictures, airline tickets, or hotel bills, this will satisfy the USCIS. The fiancé application appears relatively simple, and USCIS instructions are clear.
Why Hire an Immigration Attorney for Your K-1 Fiancé Visa
Some very low cost services have sprung up to help people file fiancé visa applications. The services are generally not staffed by US immigration attorneys. If you have a very simple case, in theory they offer a cost-effective solution. We have found that while they may be able to prepare a simple application to the USCIS they are generally not much help converting the USCIS approval to a fiancé visa in your fiancé's passport. Also, if the US citizen petitioner is subject to the International Marriage Broker Regulation Act (IMBRA), has criminal convictions or met the fiancé on a dating website, these lower cost services will refuse to file the application. Instead, they will notify you to contact immigration attorney.
IMBRA Requirements
IMBRA was passed in response to perceived abuses of the fiancé visa process. Congress was concerned that the fiancé visa process looked a little too much like a mail order bride scheme. Moreover, several high-profile cases focused attention on US petitioner's with criminal records using dating sites to bring serial fiancées to the United States. Trouble predictably ensued. Congress heard tales of fiancées being abused by men that refuse to marry them, keeping them captive as slaves. Now the USCIS is tasked in making sure that people met on a dating site the fiancé's privacy was protected. Additionally, any US petitioner with a criminal record must provide those criminal records as part of the application process. Lastly, some US petitioner's now must request a waiver in order to file for the fiancé visa. These waivers are impossible to get if the US petitioner has committed certain serious crimes like sexual abuse of a minor.
After the USCIS Approval
Assuming that you meet all the USCIS requirements, it should approve your fiancé petition. This approval does not get your fiancé into the United States. Instead, the USCIS transfers the approval to the National Visa Center, which in turn transfers it to the US Consulate with jurisdiction over your fiancé's home. Your fiancé now must apply for the fiancé visa that has been reserved for them.
The process of applying for the fiancé visa consists of gathering documents and completing the application form for the visa itself. Unfortunately, different consulates have processes that differ. No uniform standard process of application exists as each consulate has developed its own particular process. Usually, the most important part of this process is supplying the consular when evidence that the US petitioner as enough financial resources to successfully sponsor the fiancé. The US petitioner must supply financial affidavit of support, usually form I-134. But in some instances, the consulate will also request that I-864 financial affidavit of support. After the financial information, your fiancé obtaining the required medical exam and police certificates are also important time required.
How We Help
As part of our fiancé visa process we help your fiancé gather all the required documents and make sure that your fiancé completed the DS-160 application form correctly. Also, we also work with you to make sure that we have prepared the correct financial support documentation. After that, we guide you in getting that documentation into your fiancé's hands. Lastly, we also work with the fiancé to schedule the appointment for the fiancé visa once all the documents have been obtained. We also fix problems that people encounter during the fiancé visa process like discovering your fiancé has an expedited removal order.
When your fiancé gets to the United States using the fiancé visa, you have 90 days in which to get married. Once you marry, your fiancé you both have more immigration work before your fiancé has lawful permanent residency, greencard. Your fiancé must file an adjustment of status application, and you must sponsor your fiancé by submitting the binding financial affidavit in support, I-864.
After reading this short guide to the fiancé visa process, you have a better understanding of what you are up against in filing for fiancé visa and would like some help, please contact us.