Lawful permanent residents start the process of naturalization hoping to be citizens, but what happens when the N-400 denied after interview? What does this mean, and what are your options? Please keep reading if you need more information. If you know now that you need help,  and you live in Montana, Wyoming or North Dakota, please contact us.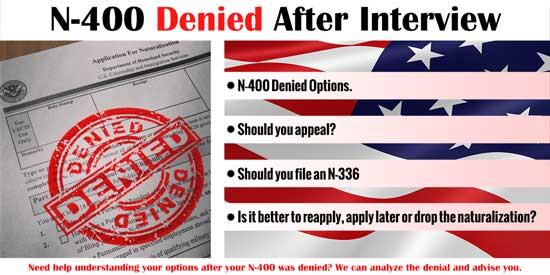 N-400 Denied after Interview
As part of the naturalization process, you submitted an application, attended a biometrics appointment, and attended an interview with a USCIS officer on your application. If you received a notice stating that your N-400 was denied after the interview, this means that the USCIS officer has found you ineligible for naturalization. The USCIS policy manual on naturalization lists nine grounds that the USCIS officer may deny your application. In practice, these nine grounds are experienced by applicants has three general categories.
Categories for the N-400 denied after interview
The three general categories that N-400 denials fall into are 1. Failure to show competence on the English and civics tests. 2. Failure to show residence and physical presence requirements. 3. Failure to show good moral character. Taking these in turn, some applicants receive a denial notice after the application because they could not read or write English. The naturalization applicant can fix this problem by accepting the denial and working on a better mastery of English as a language. More common is the USCIS denying applications due to a poor knowledge of civics. During the naturalization interview the USCIS officer asked the applicant 10 questions about his or her knowledge of the United States. To pass, the applicant must have got 6/10 questions correct. If you failed for this reason, working harder with the many resources the USCIS provides to naturalization applicants will yield success a second time.
N-400 Denied for Physical Presence and Residence Requirements
An N-400 denied after the interview for residence and physical presence requirements means you failed to show that you have lived in the district where you submit your application for at least three months. The USCIS may also have denied your application because you do not have at least three years presence in the United States within the last five years. Sometimes, you may think the USCIS made a mistake in denying your application because you have spent more than four years in the United States. If you think that you do meet the USCIS physical presence requirements, but you have received a denial, the usual reason is that during the last five years you broke your US residence. If you leave the United States for more than six months, you stop accruing residence in the United States. Under this rule, if you left the United States for more than six months in the last five years, the USCIS will deny your N-400 application.
Review N-400 Denied for Physical Presence and Residence
Sometimes naturalization applicants know that the USCIS denied the N-400 after the interview for residence or physical presence requirements, but cannot understand the USCIS denial letter. We have helped many clients that the USCIS denied under this ground understand what they did wrong and how to fix it. If the unsuccessful applicant sends us a copy of the letter we can go over it with them during a strategy consultation. After the consultation, you will understand where you went wrong and how to fix it.
N-400 Denied after Interview for Failing to Show Good Moral Character
The USCIS requirements provide that an applicant for naturalization must show good moral character for five years before the applicant filing for naturalization. Good moral character is a nebulous concept. Most often the USCIS denies applicants under this ground for a variety of reasons like failing to pay taxes or criminal convictions. An applicant may also receive a denial under this ground for fraud.
Failure to File a US Tax Return
IRS requirements that US citizens must pay taxes on worldwide income catches naturalization applicants off guard. An applicant may have spent some time in Canada and paid taxes in Canada, but failed to file a US tax return. Even if the filed US tax return showed no US tax due, the USCIS would still deny the application due to the failure to file. We have fixed this problem before for naturalization applicants by fixing the failure to file problem and then re-filing the naturalization application with an explanation. If this is your problem, and you need help, please contact us for a strategy consultation on your N-400 denied after the interview.
Criminal Conduct
An applicant's serious criminal convictions will cause the USCIS to deny the N-400 naturalization applicant. A single conviction of driving under the influence is enough for the USCIS to deny the application. The USCIS may look behind a plea deal that the applicant thought would help. If an applicant's DUI charge was reduced to reckless driving, the USCIS will often deny the N-400. The USCIS can independently gather documents related to the criminal charge or can require the applicant to bring in documents that relate to the criminal conviction as part of the N-400 application process. If you have criminal convictions, contact us for a strategy consultation to see whether filing for naturalization is in your best interest. It is better to plan and receive guidance and to forge ahead and receive a denial.
N-400 Denied after Interview Remedy
So far this article has discussed the reasons that you may have received an N-400 denial. In this section, we discussed the remedy. On the letter that you received from the USCIS, the USCIS informs you that you can appeal the denial of your N-400. To do this you would file an N-336, Request for a Hearing on a Decision in Naturalization Proceedings.
Filing the N-336 appeal will give you a hearing with a different USCIS officer on your naturalization application and a chance for you to fight the denial. If the USCIS denial was a mistake on the law and facts it is possible that you can prevail at this stage. We have successfully assisted people in the N-336 appeal process. However, it is critical to appeal only if you have a chance of success. That is why it is so important to get professional advice on the USCIS denial before appealing.
If your N-336 appeal is unsuccessful, you have exhausted your administrative remedies and may now appeal to federal district court. An appeal to federal district court is expensive and time-consuming. An applicant should consider his or her options before pursuing an appeal to the District Court. Professional guidance is key to making the right decision.
How We Can Help
From analyzing your N-400 denial after the interview through filing the N-336 appeal, and everything between, we can provide professional immigration advice that you can rely on. If you would like help with an N-400 denial, please contact us.